Publisher-centric monetization solutions
Take control of your ad stack and earn maximum revenue with the industry's highest quality demand sources and our most advanced optimization technology
SaaS Header Bidding Wrapper
SaaS Header Bidding Adapter
Your Ideal Ad Stack
Leveraging our class-leading technology and unparalleled yield expertise, we tailor the Ideal Ad Stack for each of our partners to maximize revenue on every device. Bidmatic.io manages your entire programmatic advertising monetization. We make it simple to enable header bidding, programmatic direct sales and the industry's top SSP demand partners. Access just the services you need or leverage the entire platform, all complete with our built-in optimization and premium support.
Reporting
Unified dashboard with real-time metrics
Demand
Use our Ad Marketplace or bring your own Advertisers
Yield Boost
Combination of AI and adtech experts to maximize your revenue
Code
Highly optimized, lightweight and easy to use integration tools
White-Label
Special offer to partners that want to create their own network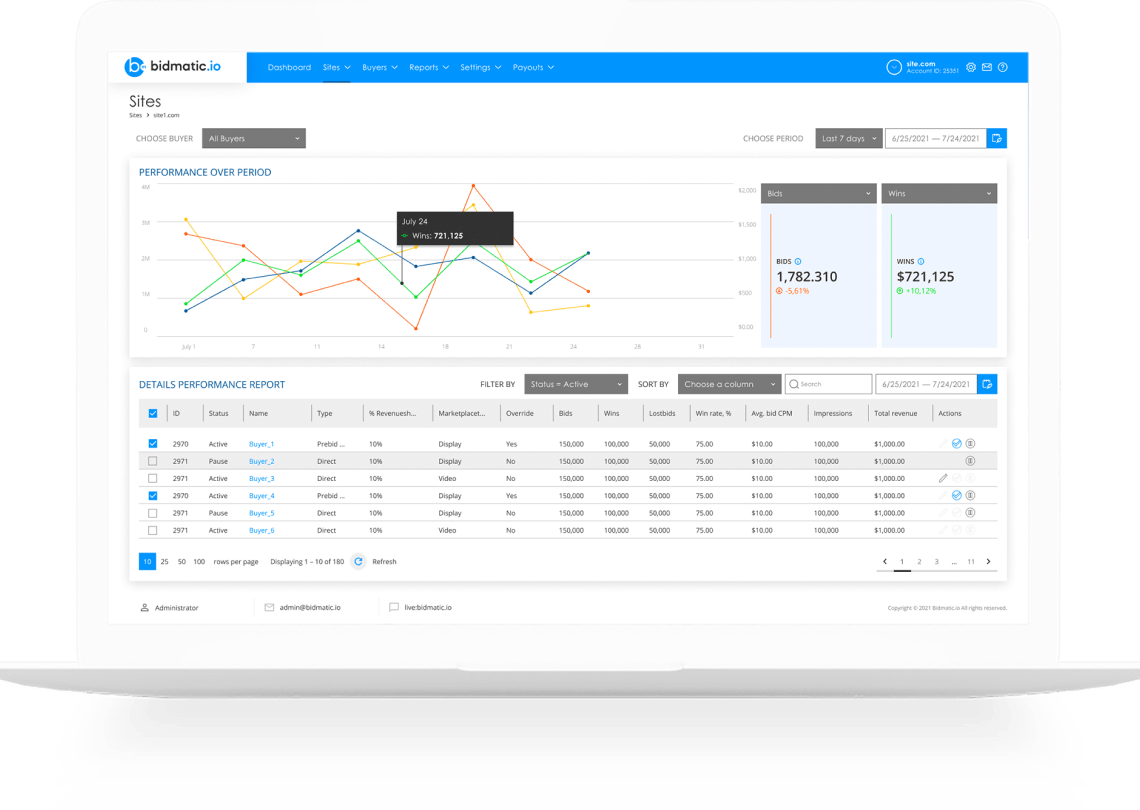 Features
Core Web Vitals Friendly Solution
Highly optimized code and in-depth analysis of your Core Web Vitals metrics, with valuable feedback and recommendations on how to improve the scores and user experience of your website
AI Performance Optimization
Our AI will select the best set of partners for each auction in realtime from our perfect combination of client and server side demand
Detailed and Transparent Reporting
Real-time insights into your revenue with full transparency and customized views. Review your performance with as much data granularity as you like.
Maximum Ad Quality, Optimal Bid Density
Our AI would find a perfect set of partners to bid on each user based on the historical performance analysis
Customer-centered support
Even the best AI can't replace human experience and objectivity, so we would have a dedicated success manager for you to identify optimization opportunities and provide support
Transparent Modular Service
Choose from three service modules: full service, self-managed or allow us to tailor a custom solution for your specific needs
Direct Sales Team
Our team would ensure premium CPMs for your sites by setting up direct relationships with brands
Smart Ad Refresh
We will make sure that you earn maximum from each user keeping advertisers happy with KPIs
Smart Ad Refresh
Dynamic Price Floors
Realtime AI Optimization
A/B Testing
Lazy Loading
Display/Video/Native Formats
Prebid Client, Server & OpenRTB
Google MCM Program
Outsream Video Header Bidding
AMP Pages Monetization
GDPR/CCPA/LGPD Compliant
User-Friendly Dashboard
Why us
5 Billion Display Impressions Monthly
Built-in ad quality validation
Net 0, Net 15, Net 30 Payment Terms
Subscribe to our newsletter